Welcome to Not Me! Monday! This blog carnival was created by
MckMama
. You can head over to
her blog
to read what she and everyone else have not been doing this week.
This week, I did
not
correct several little old ladies about the gender of my daughter. I also did
not
grumble under my breath that it is hard to mistake a boy for wearing hair bows.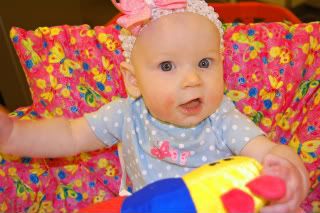 (Guess the
blue
gave "her" away as a boy)
I also did
not
feed my daughter lunch by letting her play with a piece of mango in a fresh feeder so that I could clean the kitchen before company came over! I sat down with her and fed her by spoon, and my kitchen miraculously cleaned itself. Must have been those cleaning fairies I payed for!
I went to a birthday party this week, and I am very proud to say, I did
not
take home enough birthday cake for 2 people, and eat part of hubby's "half"!
Were you perfect this week, too?! Please share!